You know when you're little and you get so excited for your birthday? You count down the days, tell all your friends, and get all giddy the night before. I kinda miss that feeling. I think this year I've been the least excited for my birthday. I didn't even know what day it was on until I looked at the calender. Sad. I know.
BUT!!!!
I have an amazing husband! He has shaken me out of this birthday Grinchness, and has made my day so great! He really is the sweetest!
Let me tell you a little story about this Morley couple....
We are HORRIBLE about surprises. We both get sooo excited that we always end up giving each other at least one gift before our actual birthday. We shop at the last minute, because we know if we try to keep it hidden, we will eventually give in and give it to each other! haha
So Dan went shopping last night after work. I tried to tell him it was OK to save everything for my actual birthday, but I really really wanted to open a present. And he knew it. So he came back with my first gift.
I've had my eye on these victoria's secret jammies that are perfect for mommies. And guess what my present was?!
So cute!!
Even though I can't really button up the top, the bottoms are still super comfy!
This morning I woke up to 22 kisses;) One of my favorite birthday traditions! Damon came into bed and we cuddled for a good 10 minutes. A perfect way to start the day! Then, more presents!!
I got the warmest blanket! It's soooo soft! My favorite blanket is getting worn down and kinda nasty, and it's only made for one person. So Dan got me an amazing blanket that's big enough for both of us and two little boys;)
He also bought me some sweet socks! I hardly ever wear sock. I'm a flip flop or flat kinda girl. But I'm so cold all the time and all my socks are super old and raggedy. So he bought me some thick warm socks and I've been wearing them all day, and they are amazing. I feel lied to my whole life! I never knew such amazing socks existed!
OK. Here's the big one. I LOVE THIS PRESENT!!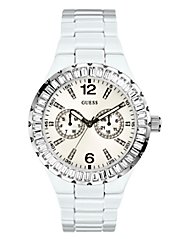 Oh my goodness. I have wanted a cute white watch for a while now, and this one takes the cake for any one that I have seen! It is seriously the most beautiful thing! Isn't my husband the best?!
I feel like I'm having one of those, "my life is amazing" moments that when people post stuff like this I wanna gag.....so I'm sorry if I'm making some of you gag! I was just so excited! It's been a great birthday! My husband has spoiled me rotten and made it such a great day!
Ok one more thing then I'll shut up, I swear!
My amazing parents took me out to lunch today and gave me one of these bad boys!
Why yes, yes that is a babyliss flat iron....
Ok Ladies, if you have curly hair or even wavy hair, this is THE BEST straightener ever! Words cannot describe how awesome it is! One pass over my hair and it's super flat. It doesn't pull my hair out, and it stays straight all day. No frizz! Oh man. AMAZING! If you don't have one, put it on your Christmas List! You won't be dissapointed!
Here's to being 22! Being married to a wonderful man who I love more than anything! Having a sweet little boy and one on the way who I love just as much! Life is great!